The start of 2023 hasn't been great as selling pressure by the Foreign Institutions in Cash Market in the 1st week of the year exceed 7800crs, this led to a 1.86% drop in Nifty on YTD a basis.
After a big buying figure in the month of November to the tune of 22,546cr, the Foreign Institutions have been in selling mode in the month of December, primarily due to steps taken by the US FED to curb inflation and the news of the spread of covid in China. FII sold shares worth 14,231cr in the month of December. Monthly Inflow/outflow by FII's is attached below:-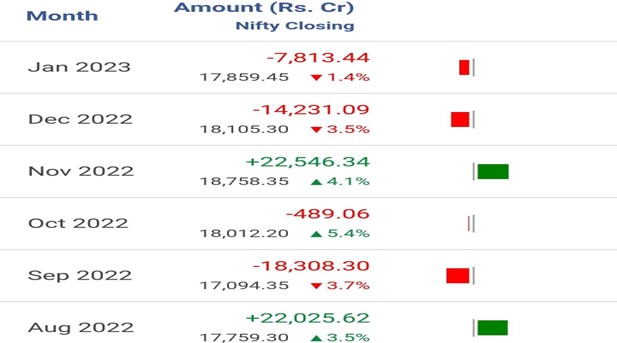 On the Other hand, Domestic Institutions have absorbed the entire sales by Foreign Institutions. DII's have bought to the tune of 24,159cr in the month of December'22.
If we look at the MSCI India Valuation premium to other emerging economies it is at 98% versus the average of 45%, in our opinion whenever the premium is huge the probability of the markets delivering outsized returns is less. We expect a few sectors to deliver below than expected Q3FY23 results namely, Automobile, Metals, and Healthcare, hence these are the sectors that are prone to earnings cut and downgrades by the broking houses.
India is the fastest-growing major economy and has also shown resilience even at a time of such huge volatility in global markets. hence, we recommend a buy-on-dips strategy under current market conditions. Foreign Institutions have largely been net sellers in Indian Equity Markets, selling shares worth 2,78,429 in the calendar year of 2022. FII flow remains a key factor this year, a good inflow could drive the Indian Indices: – Nifty to touch the levels of 20k this year.
Tracking FII Flows into different Sectors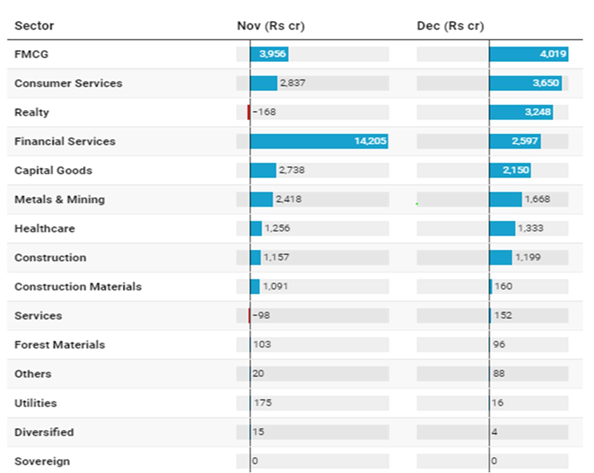 NSDL data shows that FII's inflows into the FMCG, Consumer Services, and Realty sectors ahead of Q3 numbers and have sold Oil and Gas, Power, and Telecom sector.
In our view, investors too can look into select companies in FMCG and Consumer Services space where the valuations are at comfortable levels.