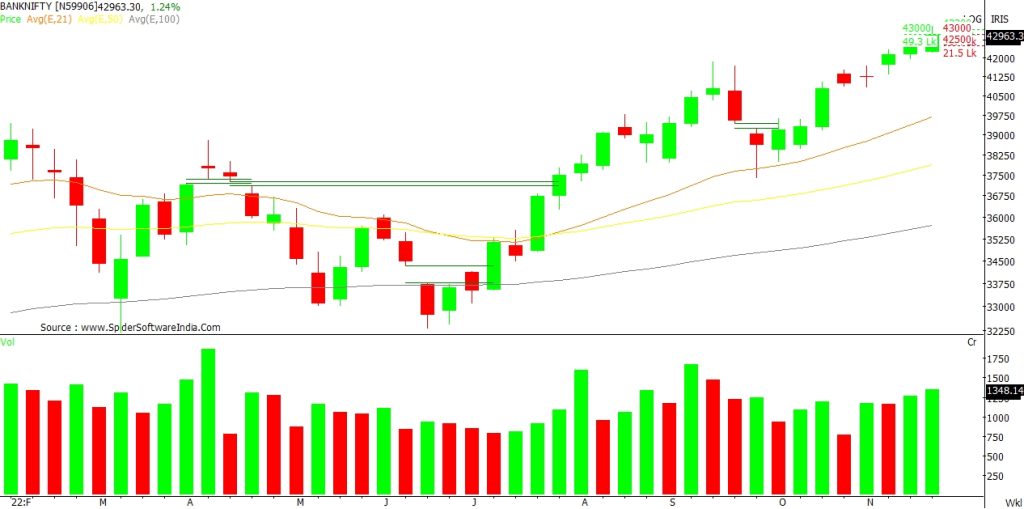 Indian Markets have been in a stellar run over the past few weeks clearly outperforming their global peers by a huge margin. The indices are just around 2% away from all-time highs while on the other side the global markets have to still do a long northward journey.
The following are the reasons for such outperformance from the Indian markets:
Stability in the global peers
Positive FIIs flows
Continuous SIP support from the retail investors
Stable earnings from some India Inc.
Fall in US Dollar Index
No negative news from Russia- Ukraine war.
Apart from the above factors, the positive sentiments were also boosted from the financial sector where both the private players and the public players came out with better-than-expected earnings in the second quarter which is clearly visible in the indices performance where the Banking index has already traded at all-time highs while on the other side Nifty is yet to go into uncharted territory.
Interestingly, on the other hand, it is quite visible that the indices are looking strong but the market participant's lower enthusiasm in the current market scenario is clearly seen. The confirmation of the same is reflected in the daily advance-decline ratio as well where the indices will be in green but the market breadth will be on the declining side.
Market sentiments are expected to remain robust in the coming weeks as well as tracking the holiday season in the global market in the month of December and the pre-budget moves in the stocks ahead in the next couple of months. We expect the market to remain stable in the near-term period until something goes wrong with the global peers. Even if the market corrects due to any reason, we expect it to outperform and regain momentum in the long run and any major correction in good quality stocks should be kept on the radar for major declines for accumulation for long-term investment.
Adopt the below key rule for a better investment journey:
Don't Stop SIPs even at higher levels
Keep accumulating good stocks on any major declines
Track your investment on a regular basis
Add some good mutual funds including tax savers
Keep close track of global news and developments
Retail investors should always note that volatility is part of the game in equity investments and we should make the best utilization of it to maximize our returns. Investment is a long-term story where the short-term developments should definitely be tracked keeping the long-term goals intact.