Logistics is the backbone of any economy. The logistics industry in India is currently valued at USD 250 Billion and is growing rapidly. It is expected to cross above USD 380 Billion by 2025. It currently accounts for 14.4% of GDP and is growing at a CAGR of 8%.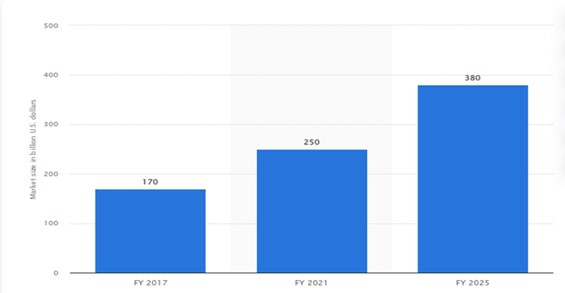 This sector currently employs more than 22 million people in India, 42.14 % are employed in the passenger roadways segment, 38% in road fright while the remaining are in passenger railways, freight forwarding, warehousing, packaging, and other services. and has been ranked 35th in the World Bank's Logistics performance index in 2022 up from 54th in 2014. Out of the USD 190 Billion, over 90% is accounted for by the unorganized sector. The Chart below shows that Roads being the most preferred route of Logistics and Agriculture is the most transported good/commodity.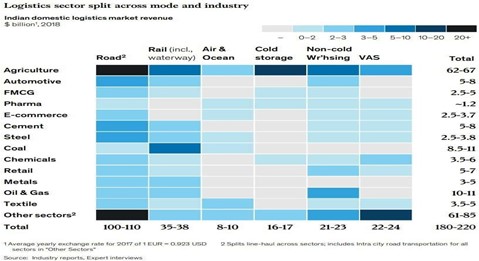 The logistics sector rides on the growth of the manufacturing sector. Higher production more goods to be transported, auguring better the growth of the logistics business in India. But the logistics cost in India is a concern as it is on the higher side compared to other BRICS nations and also to the Developed Economies.

However, the industry is growing at a fast pace and if India can bring down its logistics cost from 14% to 9% of the GDP (level in the US), savings to the tune of USD 50 billion will be realized at the current GDP level, making Indian goods more competitive in the global market.
New Logistics Policy
The Government launched the New Logistics Policy on Sep17'22 which caters to all the key stakeholders by streamlining the process and focusses on reduction in overall logistics cost besides promoting employment and a skilled workforce.
The government further stated that Unified Logistics Interface Platform ULIP will bring all the digital services related to the transportation sector into a single portal, freeing the exporters from a host of very long and cumbersome processes
The New Logistics Policy is well received by the industry and is being quoted as a landmark move for the sector.
PM Gati Shakti was also a master plan that was launched last year.
Investment Opportunities.
Various steps are being taken by the government by launching new schemes, and policies and also promoting foreign investment in this sector. As per reports, this sector has seen more than 22,000 cr rupees of Foreign Inflow in 2022.
In the upcoming budget too, the government could take several steps to boost Infra growth in the country thereby giving a boost to the Logistics sector as well.
In our view, select companies in this sector provide an excellent investment opportunity for long-term investors.