The Modi government is set to present the Union Budget on 1st February'23. This would be the last full budget before the General Election which is scheduled for next year. The majority of Economists expect the Government to focus on Fiscal consolidation in the upcoming budget. Mentioned below are some of the important Economic Indicators which give us an insight into the current state of the economy.
GDP Growth Rate:
The Budget 2023-24 will be presented on the backdrop of RBI slashing growth forecasts to 6.8 percent for the current fiscal. The organization for Co-Operation and Development (OECD) in its report expects India's GDP to further slow to 5.7% in FY23-24. Even with the fall in the GDP growth rate India is still the fastest-growing major economy. All is not all gloomy for India as India is better positioned to navigate global headwinds than other emerging economies as said by World Bank in its report titled "Navigating the Storm".
Inflation: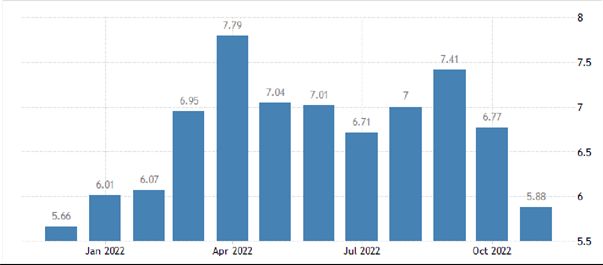 The CPI Inflation rate for the month of November'22 eased to 5.88%, well below the forecasts of 6.4%, the lowest in 11 months. RBI expects Inflation for the fourth quarter of the current fiscal to be under 6% which is the upper end of the central bank's target. The Consumer Food Price Index (CFPI) or the inflation in the food basket too eased month-on-month in November to 4.67%, from 7.01% in October. Source: MOSPI, Tradingeconomics.
Current account Deficit:
As per RBI's latest circular, India's current account deficit for the second quarter is US $ 36.4 Billion which is 4.4% of the GDP versus US$ 18.2 billion (2.2 percent of GDP) QoQ and a deficit of US$ 9.7 billion (1.3 percent of GDP) YoY. The biggest factor contributing to the spike in CAD spike was the widening of the merchandise trade deficit to US$ 83.5 billion from US$ 63.0 billion in Q1:2022-23 and an increase in net outgo under investment income. GST Collections data released recently showed that Gross GST Collections for the month of December'22 came at 1.50 lakh core Up 15.2% on a YoY basis and up 2.5% on an MoM basis.
Manufacturing PMI:
India's Manufacturing industry finished 2022 on a high note as Manufacturing data for the month of December'22 rises to 57.8% marking the 18th straight month of expansion.
Budget from the Industry and stock market's point of view:
Based on the above Economic Indicators we expect the budget to be balanced once. We do not expect any big reforms or changes to the tax structure as in our view the government will focus more on maintaining fiscal predictability.
In our view, Investors can look into the following sectors for buying opportunities in some selected shares in these sectors offer good value at current prices
Fertilizers
Agro Chemicals
Infra
Cement
Railway
Sugar
Defense